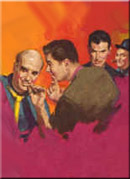 Other Artists
www.loumarchetti.com

: This is a new site featuring the art of R.A.'s close friend Lou Marchetti. Keep checking as new images are added.




Robert McGinnis Gallery

: R.A. Maguire and Robert McGinnis were often considered two of the best cover illustrators in the business. They shared a mutual admiration and respect for each other's work.




www.geraldmcconnell.org

: This is a wonderful tribute site to another renowned illustrator of the era, Gerald McConnell.







Booksellers




Related Information




Other Sites of Interest


NOTE: links will open in a new window.